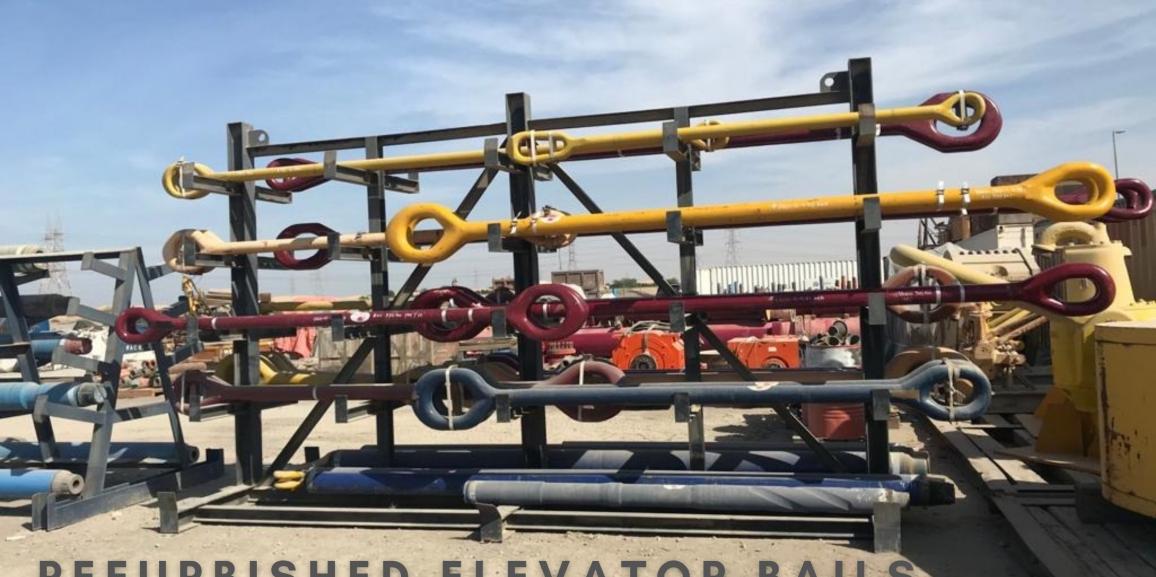 We have a stock of elevator bails that have been refurbished, available with no lead times. Drilling rig elevator bails are a simple piece of equipment, but one that is always in demand. Why pay new prices, when we can provide you with refurbished rig equipment that can do the same job, at a much lower price point?
What Are Oilfield Elevator Bails?
Elevator bails are manufactured from strong, straight rods, with both ends ending in a loop or eye. The bails are supplied in pairs, and are used to connect the elevator to the becket. This enables an elevator to be deployed, and lowered into the drilling hole. If a travelling block is used, and attached to the beckets, the drilling rig elevator bails help to create distance between the elevator and the travelling block. This gives rig workers more space to work with, and also lowers the potential risk of injuries.
Drilling Rig Elevator Bails Available From Stock
We understand that in the Oil & Gas industry, lead times for even simple equipment such as these elevator bails can be long, when buying in new. We have an option for you. Our equipment is available right now, straight from stock. These bails are just as effective as new equipment. With no moving parts, these bails can last for decades of constant use. So why suffer long lead times and inflated prices, when we can sell you some reconditioned bails at a fraction of the cost of new, and deliver them straight away?
Equipment Specifications
Product Images
Elevator Bales and Other Refurbished Drilling Equipment From IRE
These elevator bails are in excellent condition, and are ready to ship straight from stock. No lead times, and competitive pricing make these bails a simple choice. Refurbished rig equipment offers price benefits over buying new. Lowering the cost of ownership. Furthermore, buying refurbished drilling equipment lowers the overall carbon footprint of the industry. Reusing equipment rather than manufacturing new.
IRE specialises in such equipment. We have a history spanning two decades in providing the Oil & Gas industry with quality, refurbished parts and equipment. Every member of our team has spent many years working in the industry, and fully understands the unique challenges that you face when procuring drilling equipment such as these elevator bails. We are happy to provide you with more information about these bails, or any of the other rig equipment we have available. Our team will be happy to help, and provide you with the benefit of their experience to ensure you make the right buying choices. You can contact us by calling +971 6 526 2556, or by emailing sales@irefzco.com. Alternatively, send us a message using our contact form.