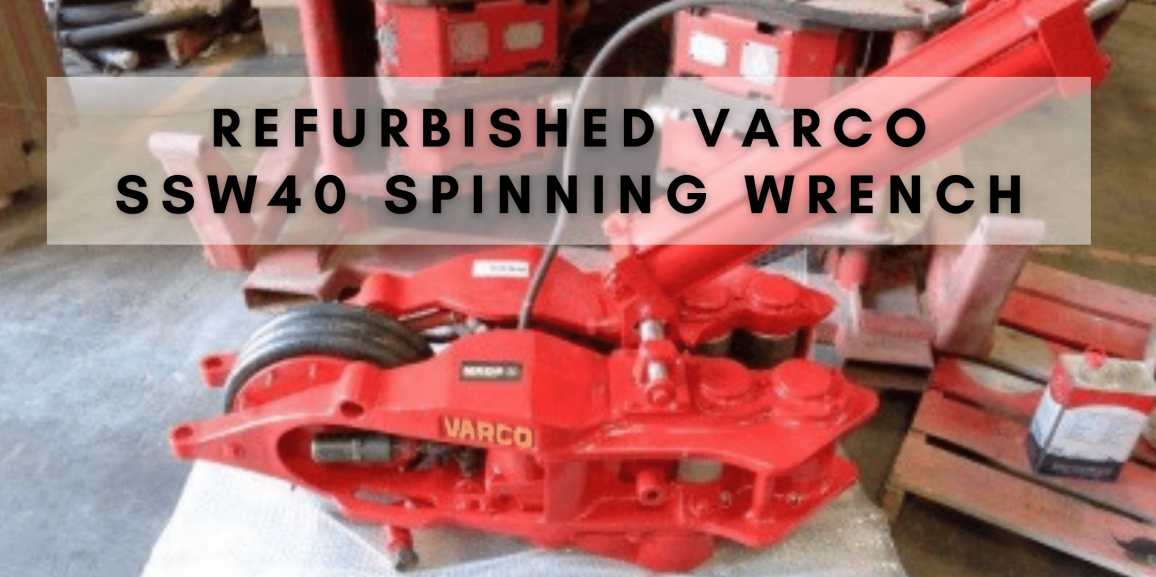 We have for sale, a fully refurbished Varco SSW40 spinning wrench. This piece of used rig equipment has been completely overhauled. It comes complete with a  Certificate of Compliance (CoC) from MRDS. The video below shows this SSW 40 spinning wrench being tested after refurbishment.
What is a Varco SSW40 Pneumatic Spinning Wrench?
The SSW 40 spinning wrench packs a lot of performance into a small, compact unit. Despite its relatively small size, this Varco unit is one of the most powerful units of its type available. It is very simple to operate, with the controls being easy to access and use.
The unit can take drill collars and drill pipes in the 3 1/2″ to 9 1/2″ OD range. And there is no need to change rollers, as a simple screw arrangement is used for adjustment. This piece of refurbished drilling equipment is a proven and tested design. It is renowned as a design that completely changed the way a pneumatic spinning wrench operates. These units are amongst the most reliable and high-performance examples of a spinning wrench that were ever produced.
There are two motors powering the four drive rollers that set the speed of the Varco SSW40. The speed can be finely controlled, so that the operator can facilitate either the fast spinning out or in of tripping pipe, or slowly walking in drill collars.
Typically, the operator will swing the pneumatic spinning wrench onto the pipe, positioning it just above a joint. This is followed by releasing the clamp, and setting the throttle. Controls are in place to stop spinning pipe in the completely wrong direction. Safety features include a vale that stops the spinning wrench from being closed if there is no pipe in place.
SSW 40 Spinning Wrench Certificate Of Compliance
Here is a copy of the Certificate of Compliance for this pneumatic spinning wrench. Testing and certification were carried out by MRDS.
SSW 40 Spinning Wrench Specifications
Range: 31/2″ to 9/2″ (89-241 mm) O.D.
Type: Drill pipe and collars
Air pressure: 90-125 psi. (650-860 KPa)
Air consumption: 250cfm (118 dm3/s)
RPM (5" O.D. pipe): 0-120
Stall torque (5″ O.D. pipe): 1,100 ft-lbs (1,493 Nm)
Weight: 780 lbs. (353 kg)
Height: 17.2″ (437 mm)
Length: 55″ (1397 mm)
Width: 22.2″ (564 mm)
More Refurbished Rig Equipment Available
We have a wide stock availability of different types of refurbished drilling equipment. This Varco SSW40 pneumatic spinning wrench is just one of the items in our inventory. Purchasing used and refurbished rig equipment makes sound financial sense in an ever more difficult industry such as oil and gas. Here are IRE, we can show you how you can procure western quality equipment, at less than the cost of new Chinese made equipment.
If you want more information about this Varco SSW40 spinning wrench, or want to talk over any other requirements you have for refurbished rig equipment, please contact our team today. You can call them on +971 6 526 2556, email them at sales@irefzco.com, or use our contact form at contact to get in touch. Our entire team has spent years working in the oil and gas industry. You won't be talking to an inexperienced salesperson who doesn't understand your needs. You will have access to the decades of knowledge and experience our team has, to help you make the right buying choices.