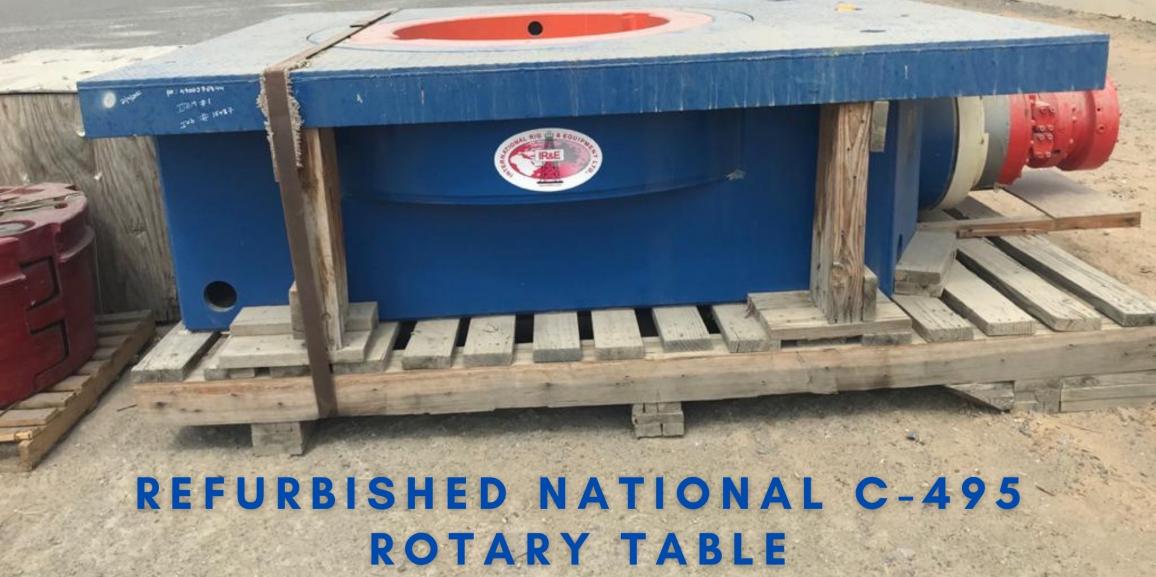 We have a refurbished National C-495 Rotary Table for sale. This piece of used rig equipment from National Oilwell is supplied complete with a ring. It also comes with a split adapter for 49 1/2 inches to 37 1/2 inches. At the bottom of this page, you will find a scan of the Certificate of Compliance for this National rotary table from American Block.
What is a National Rotary Table?
A rotary table is a piece of rig equipment sometimes referred to as a turntable. The majority of rotary tables or turntables are driven by a chain (much like a heavy-duty bicycle chain). This chain needs to be kept well lubricated, in order to stop it from seizing up.
Most rotary tables, including the refurbished National C-495 rotary table we have for sale, are fitted with a rotary lock. When this lock is engaged, it can stop the turntable from moving at all, or just in one specific direction. A National rotary table might be used by rig crew instead of tongs, to facilitate the fabrication of break out pipes.
Maintenance of this type of rig equipment is pretty straightforward. There are rotary bushings in the middle of the turntable. It is these bushings that are connected to kelly bushings to produce the rotation needed for drilling. Removing these bushings allows other pieces of rig equipment, such as drill bits, to be pushed through the turntable. The hole in the middle of the National C-495 rotary table is known as the bowl. The bowl is where slips are put, to keep the drill string held up during connections and pipe trips.
National C-495 Rotary Table Specification
Manufacturer: National Oilwell.
Model: C-495
Static Load Rating (tons): 800
Table size (inches): 49 ½
Max speed (RPM): 15
Weight (lb/kg): 22082/10016
Maximum working pressure (PSI): 3,000
Maximum flow (GPM): 115
Dimensions (inches):  A-86″ B-45‐3/4″ C-59‐3/4″ D-105‐1/2″ E-114‐1/8″ F-68‐3/8″ G-65″ H-32″ J-44″ K-58″ L-63″ M-14‐1/2″
Image courtesy of National Oilwell Varco. Product specifications were found in the 2011 NOV brochure.
National C-495 Rotary Table Certificate of Compliance and Product Images
Below, is the Certificate of Compliance for this National Oilwell rotary table. It was issued in 2013 by American Block. We have also included recent photographs of the turntable.
Why Buy a Refurbished National C-495 Rotary Table?
This particular unit is in very good condition, and available directly from stock. Meaning no lead times. Furthermore, our pricing is competitive. Buying used rig equipment that has been well maintained, can deliver significant cost of ownership savings.
We specialise in buying and selling used rig equipment, and have done so for almost 20 years. Our team understands the specific buying challenges faced by modern oil operators. Every increasing production costs make buying used equipment such as this National C-495 Rotary Table an attractive option.
If you would like more information about this National Oilwell rotary table, our team will be happy to provide it. You can contact them directly by calling +971 6 526 2556 or emailing sales@irefzco.com. Alternatively, send us a message using our contact form.