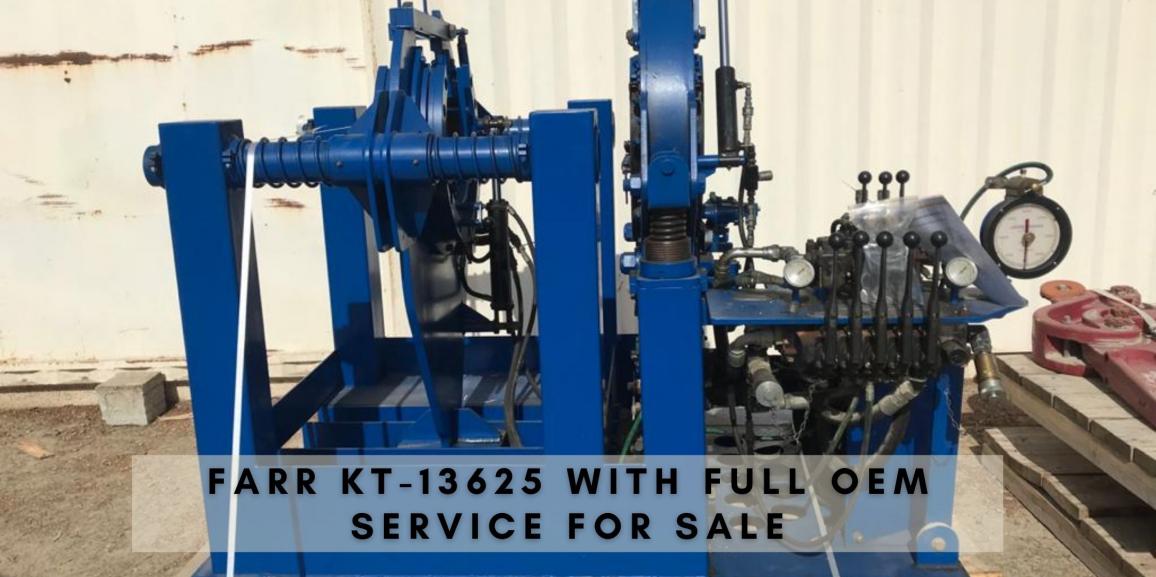 We have an exceptional FARR KT-13625 bucking unit for sale. This is unused and refurbished drilling equipment that has undergone an OEM service. This unit is available from stock now, with no lead time.
This bucking unit is multifunctional rig equipment. It has uses including the makeup and breakout of almost every kind of strings. As well as cementing tools, test tools and downhole drilling tools.
This particular example is in excellent condition, manufactured by FARR CANADA which is now operated by McCoy Global. It has been serviced and tested by the OEM. This unit can offer you significant cost savings over buying new rig equipment, even a cheaper, Chinese product. And with zero lead time, you can get this FARR KT-13625 bucking unit up and running rapidly.
FARR KT-13625 Bucking Unit Specifications
Serial Number: 20080048
Model Number: KT-13625
Part Number: 80-0935-6
Certification: Unused (OEM serviced)
Size Range: 5-1/2″ to 13 3/8″
Continuous Torque: 35,000 ft-lbs
Max Length: 78" inches / 1980 mm
Height: 67" / 1702 mm
Overall Width: 50-1/2" inches / 1280 mm
Torque Arm Length: 36" inches / 914 mm
Weight: 4500 lb. / 2043 kg
Comes With: 13 3/8″ Hyd Back-Up Model 85-0902 & Torque Guage
Location: Sharjah UAE
FARR KT-13625 Bucking Unit Product Images
As you can clearly see from these product images, this bucking unit is in exceptional condition. Additionally, viewing and inspection can be arranged if needed.
More Information About This Rig Equipment
IRE specialises in selling refurbished drilling equipment. Now and then, we take in a piece of equipment that we think is something very special. This FARR KT-13625 bucking unit is just such a product. It sits unused, ready to deliver with zero lead time, giving western manufacturing quality at a cost cheaper than inferior, Chinese manufactured equivalents.
If you would like to learn more about this unit, one of our team members will be able to give you the information you need. Every member of our team has spent decades in the oil and gas industry. They have a deep well of expertise that you can rely on to ensure that you make the correct buying choices.
Our team is easy to get in touch with, all you have to do is give them a call on +971 6 526 2556 or email them at sales@irefzco.com. If you would prefer, you can send us a message using our contact form.