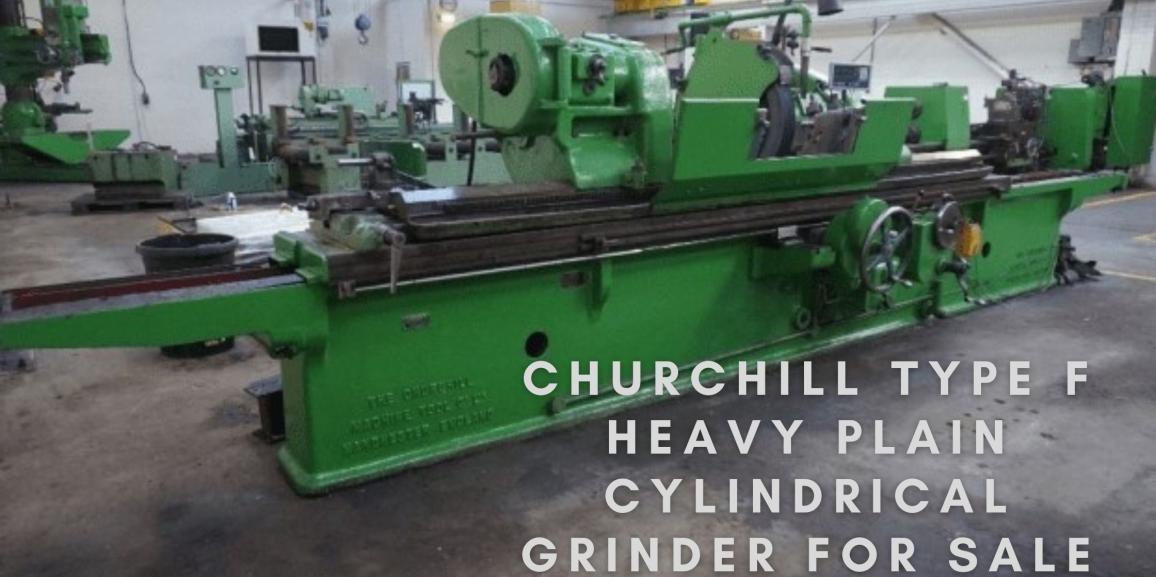 We have a Churchill Type F heavy plain cylindrical grinder available for sale. The unit was decommissioned in 2016. It is in excellent condition and is available now from stock, ready to ship. The price is very competitive for a piece of workshop equipment in such good condition.
What is a Cylindrical Grinder?
A cylindrical grinder is used to apply different shapes to the external face of an object. The shape of the object can take any form, as long as it has at least one stable axis of rotation. As the grinder spins the object along this axis. There are four requirements that the grinder must meet, in terms of function. As listed below.
The object being shaped must rotate all the time it is being worked on.
And the grinding wheel also has to rotate continuously while work is in progress.
The grinding wheel needs to be able to move forward and backwards, towards or away from the object being worked on.
The grinding wheel or the object being worked on must freely transverse the other.
Churchill Type F Specification
Manufacturer: Churchill
Model: F (HPC)
Unit serial number: 21148
Country of Manufacture: Great Britain
Present Location: HFZ 2 Sharjah UAE
Inspection and Testing: Decommissioned 2016
Size : 24" X 96" 
Nominal Size of Machine: 20" & 26" Swing
Maximum Swing Over Table: 28" 
Standard Grinding Wheel Size: 30" x 3" x 12"
Max Width Of Grinding Wheel: 8" 
Maximum diameter ground: 26"
Chuck Size: 18" 
Length between Centers: 96"
Maximum Wheelhead withdrawal: 4 
Work Rotation Speeds: 15 to 90 r.p.m.
Motor For Grinding Wheel Drive: 20 H.P.
The Motor for Work Drive: 7 ½-10 H.P.
Motor for Table Traverse Drive: 3 H.P. 
Approximate Weight: 43,700 lbs (19560 KG)
Floor Space Full Traverse: 24' x 11' 
Additional X&Z Axis Operation: Digital Output
Churchill Type F Product Images
Here are a few photographs of the cylindrical grinder. We can also arrange for viewing and inspection of this equipment if you wish. You can contact our team to facilitate this.
Get More Information from the IRE Team
IRE is a vendor of refurbished rig equipment. We have a wide range of drilling equipment in stock and ready for shipping. If you would like more information about this Churchill Type F grinder, our team can help you with this. Each of them has spent many years working in the oil and gas industry. Their knowledge can be of benefit to you, helping you make the right purchasing choices. You can email them at sales@irefzco.com, or call them on +971 6 526 2556. Alternatively, send us a message via our contact form and we will get back to you.